If you're looking to improve your individual lacrosse skills, have fun and meet new friends, then the best thing you can do is attend the Spring Break Skills Lab at the Dynamic Training Center! The Lab is geared to players of all ability levels from experienced to beginners. We will build individual skill development to increase their fundamentals and lacrosse IQ through competition, drills and games.
Players will be receiving lacrosse training from expert coaches – coaches include:
Team 91 Director and 2016 Defensive Player of the Year: Jillian Pfeifer
2X All American and draw specialist: Connor Bird
National Champion and All-American: Claire Petersen
2X National Champion and Long Beach Varsity Coach: Rachel Ray
Join us to sharpen your skills and elevate your game with a coaching staff full of experience and knowledge.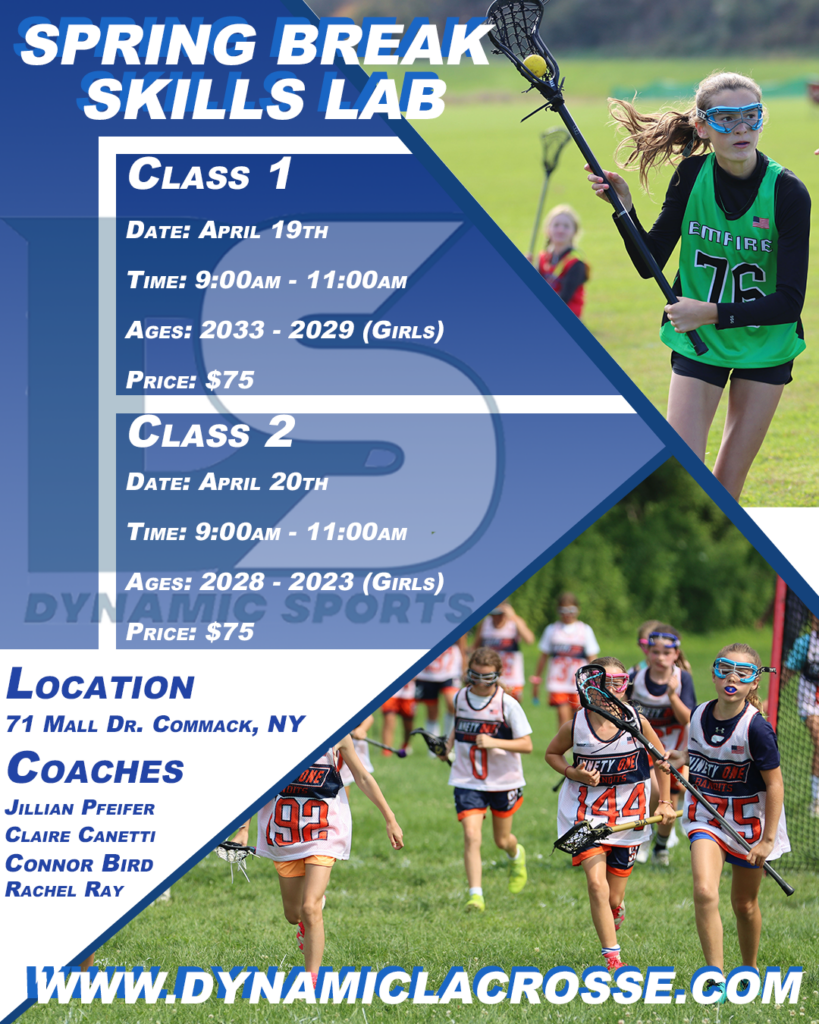 JILLIAN PFEIFER
Jillian attended Colorado Mesa University 2013-2017. While at Colorado Mesa University she was named 3x RMAC first conference team, 15x defensive player of the week, 2016 defensive player of the year, as well as an All- American nominee. Ranked 5th in save percentages for D2 in 2016 and 2017. Continued her career on the coaching side as a Graduate Assistant for CMU 2017-2018. Current member of the NYPD Women's Lacrosse Program.
CLAIRE CANETTI
Claire Attended Adelphi in 2010 and 2011 where she was named Division II player of the year as well as a National Champion. In 2012 Claire attended Stony Brook University where she was named Division I All – American as well as America East Player of the Year. Claire also has 10+ years of coaching and training experience.
RACHEL RAY
Ray was inducted to the Adelphi Hall of Fame (2018) after a 2x National Champion run with the Panthers. During her time at AU she was a 3x IWLCA/US Lacrosse All-American, and notably NCAA Tewaaraton Trophy Top 25 Nominee (2009). She now resides in Long Beach where she is known for putting the LB Girls Lacrosse program on the map. She was the Class A conference II coach of the year 2011.
CONNOR BIRD
Connor attended LIU Post 2013-2017. She was a four-year starter for the Pioneers and racked up quite the resume, including ECC draw control leader and 2x All American. As well as 2015-16 IWLCA All-North Region Second Team, 2015-16 All-ECC Second Team, 2017 IWLCA All-America First Team, 2017 All-ECC First Team. Bird currently holds a varsity coaching position at St. Anthony's High School.